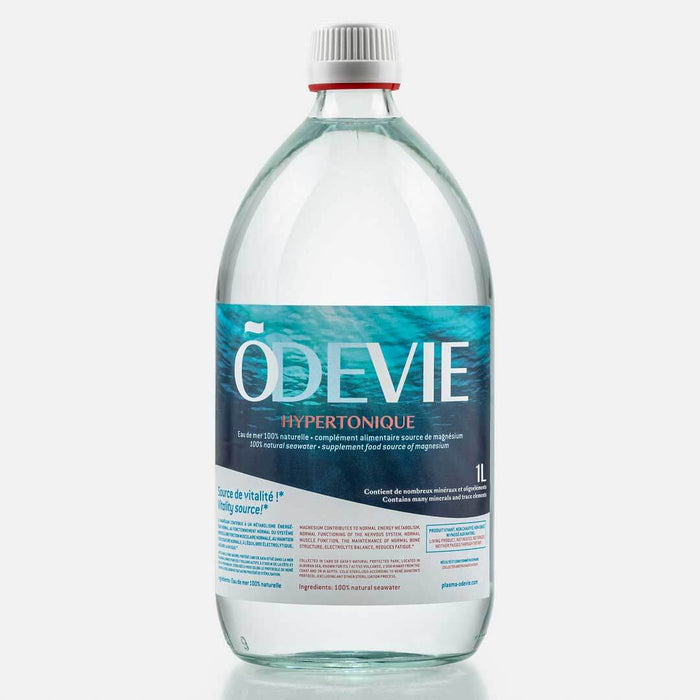 1 to 12 Hypertonic Bottles, 40.4‰
Hypertonic marine plasma, 1L glass bottle, cold micro-filtered according to Quinton's protocol: rich in minerals - electrolytes 40.4g/L.
78 minerals: magnesium, potassium, calcium, sodium and numerous trace elements.
Remineralization, rehydration, drainage, cell regeneration
Captured in the officially recognized Cabo de Gata Protected Natural Park.
Maintains vibratory rate through a unique device that corrects torsion fields.
Drink neat as hypertonic solution or diluted as isotonic solution.
Economical solution: 1 liter = 100 ampoules of hypertonic = 450 ampoules of isotonic after dilution.
Save up to

€68,40
Save

€0,00
Original price
€28,50
-
Original price
€342,00
VAT included
PICKUP POINT DELIVERY
If you choose the delivery method by pickup point, the choice of the pickup point is made after validation of the payment.
See DPD drop-off locations in your area >
Uses

In isotonic solution (diluted) to remineralize, regenerate, revitalize, drain.
In hypertonic solution (pure) for a boost, an intense remineralization.
(more info, read How to consume)
Contraindications

Hypertonic marine plasma is not recommended for people with high blood pressure or severe kidney problems.

In these cases, it is advisable to consume isotonic solution, diluted at the rate of one volume of hypertonic solution to 5 volumes of spring water (Mont Roucous, Rosée de la Reine, Mont Calm, etc.) or low mineralized water, osmosed water, etc.
Start by taking 1 tablespoon per day, then gradually increase. Stop immediately in case of discomfort.
Ingredients

100% natural sea water cold sterilized according to the Quinton protocol.
Additional information

In addition to the contribution of minerals, electrolytes, hypertonic marine plasma promotes the assimilation of nutrients and all food supplements.
Glass bottle: 9 cm diameter, 22 cm high.