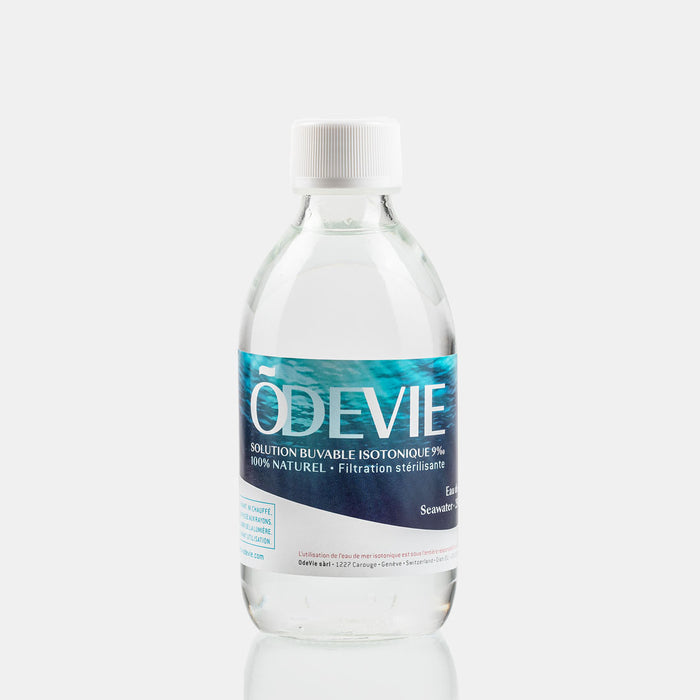 ISOTONIC 9‰
Marine plasma

isotonic

, cold sterilized according to René Quinton's protocol, mineral content 9‰. In 250 ml glass bottle.
Captured in the protected Cabo de Gata natural park(UNESCO 1997), prepared in a clean room laboratory, for specific oral use, immunocompromised people.
Save up to

€225,00
Save

€30,00
Original price
€80,00
-
Original price
€480,00
VAT included
PICKUP POINT DELIVERY
If you choose the delivery method by pickup point, the choice of the pickup point is made after validation of the payment.
See DPD drop-off locations in your area >
Uses

Isotonic 9‰ drinkable solution, ready to use.
Contraindications

No specific contraindication.
Ingredients

Osmosed water (194,5 ml), hypertonic sea water 100% natural, origin Cabo de Gata (55.5 ml), cold sterilized according to the protocol of Rene Quinton, in a clean room.
Additional information

In addition to the contribution of minerals, electrolytes, hypertonic marine plasma promotes the assimilation of nutrients and all food supplements.
Glass bottle: diameter 5.5 cm, 14.5 cm high